Has anybody ever seen the inside of a helmet that looked as new, or repro, as this one?: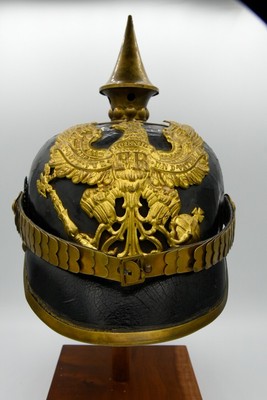 Find many great new & used options and get the best deals for 1871 pickelhaube Helmet standard style at the best online prices at eBay! Free shipping for many products!
The helmet looks old, the fittings seem proper (except it should have screw posts for the chinscales instead of rosettes), the crazing is typical for a helmet that has not been cared for, but the inside is light tan and seems untouched. The photo is poor so it almost looks like the helmet was made wrong side out, if you know what I mean.
The helmet is waaaaaaay overpriced, so I'm not at all interested. I just always look at the older ones.
John