Moderator

Posts: 1541
Joined: Tue Sep 06, 2005 5:30 pm
---
Thanks for sharing! The situation in Russia did hardly improve over the last 100 years.

Regards,

Edwin
---
Special Ranks Member

Posts: 1195
Joined: Sun Apr 08, 2012 12:10 pm
Location: flandria nostra
Well, the Kremlin Regiment or the Presidential Regiment got very nice uniformes...again!
Always looking for Belgian Congo stuff!
http://virtueel-museum-antwerpen.webnode.be/
" onclick="window.open(this.href);return false;
cheers
|<ris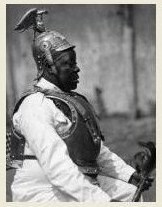 ---
Agreed, one of the great historical tragedies. Their 1917 Revolution just gave control to another minority group, "the vanguard of the Proletariat " a communist nobility with it's own ruthless dictator. Stalin slaughtered millions more than Hitler. Always dictatorship and even now, they have the little man who kills anyone who criticizes and gets his picture taken like Mussolini with his shirt off, riding on horseback. God help the long suffering people of Russia.
Remember, Pillage first THEN Burn ...
---