What were the function of Bayonet Knots and Sword Knots?
Were these just a form of ID, so if the soldier or Officer was killed, it would be easier to identify the Regiment he came from??
Sort of similar to dog tags??
It does not look like when the soldier or Officer used the bayonet or sword, the knot was swinging from the bayonet or sword:
And exactly what nook on the belt were these knots attached to???
Were the bayonet and sword knots retired after the M1915 Blus uniform was issued at the very end of September, 1915????
Also, does anyone have a Master List of the colors used in these knots???
Bayonet knot:
Hmm--sort of looks like it just tied around the Bayonet holder (or frog) :unsure: :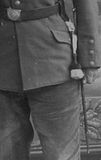 Reserve (R.I.R. 216) soldier, M1910 Uniform; old M1895 Ammo pouches:
You can see the bayonet knot plainly here: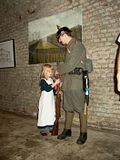 But some Reserve Infantry did have the newer ammo M1910 pouches:
R.I.R. 202 soldier, M1910 Uniform; M1910 Ammo Pouches: