Moderators: b.loree, joerookery
This is my Garde Dragoner Regt Nr 2 Offz helmet.
99,999999999999% of the Wappen's silver wash is gone....
Francis
Last edited by
Khukri
on Mon Jul 13, 2015 1:15 pm, edited 1 time in total.
---
Special Ranks Member

Posts: 1557
Joined: Sun Apr 08, 2012 12:10 pm
Location: flandria nostra
I love it anyway!
|<
Always looking for Belgian Congo stuff!
http://virtueel-museum-antwerpen.webnode.be/
" onclick="window.open(this.href);return false;
cheers
|<ris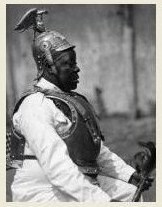 ---
Still a very nice example!! Congratulations.
Bruno
---
Moderator

Posts: 3535
Joined: Thu Sep 08, 2005 4:14 pm
Location: U.S.A.
Nice helmet, congrats

James
J.LeBrasseur
---
Thank you gentlemen !
Francis
---
I just spotted the remaining 0,000000000001 % silver wash
... Nice helmet!
Adler
---
it is still a great one to look at
with or without its silver wash
what i do wonder is in what way was the silver wash applied on the parts and how commes it now lets go
is it becose of the lots of cleaning or of its enviorment that these helmets were in over the past100 years
sommethings to think about
jonas
---
---
Contributor

Posts: 281
Joined: Tue Jan 27, 2015 5:38 am
Nice helmet!!!!

Greetings

Pickelhaube
Collecting militaria isn't a hobby, it's a way of living.
---
Great helmet! Thanks for sharing
Regards,
Edwin
---
Elite Member

Posts: 3650
Joined: Tue Feb 27, 2007 2:47 pm
Location: Wisconsin
Yes, I like it too. Like I posted on the other thread, I've a General a'la Suite that's the same way. Silver on back, bare brass on front.
Ron
I really do need to know more about this....
---
Years ago before Jan Kube put everything
in his auctions , he sold me some nice helmets direct .
One was a 2 Garde Dragoon officer .
He bought it from a family member so he
was able to supply me with the name of the officer
who owned and wore the helmet .
It has a lot of the silver wash on the front plate .
Never cleaned as it was in the family until
Kube bought it . When I learn to post photos
on the site , I will send out some photos of it .
Steve
---