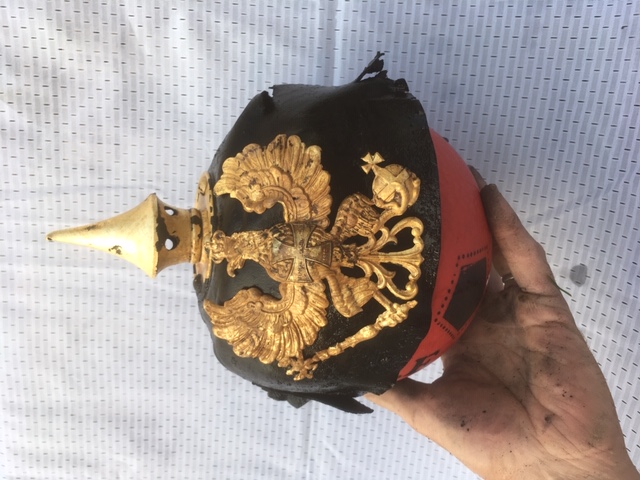 Hello,
I am new on this forum and have a conservation request...
Together with my son I am working on the renovation of a former monastery / orphanage / school in our village (St-Julien, Flanders).
During the works we discovered a pre-war cellar that was partially destroyed during WWI and filled with war rubble after the war.
We are now emptying that basement with the intention of making a new basement in it.
During the war that cellar was used as a shelter. That is why we have made some discoveries. The best find was the pin helmet you see in the photo. The photo shows the helmet after half an hour of softrinsing with water and some toothbrushing to remove the metal parts from the mud (the ball on which the helmet is in the photo is not part of the find ;-)
Is there anyone who can provide me information for the conservation of this pickelhaube?
Since the 'cleaning' I let the helmet under water, waiting for conservation-info, but It seems to me that the helmet is disintegrating...
Thanks for the info!
Robert