Moderators: b.loree, joerookery
Moderator

Posts: 3397
Joined: Thu Sep 08, 2005 4:14 pm
Location: U.S.A.
---
Special Ranks Member

Posts: 1358
Joined: Fri Mar 18, 2016 12:22 am
Beautiful James!
Just out of curiosity --- did the lions rotate with the chinscales on these?
John
---
Exceptional Contributor

Posts: 795
Joined: Tue Oct 18, 2016 3:21 pm
Location: New Orleans
---
An old one but a very nice one .first time to see one of these
Jonas
---
Love this one! Great patina!
Francis
---
Very nice James, thanks for the "repost" !
Remember, Pillage first THEN Burn ...
---
Special Ranks Member

Posts: 1459
Joined: Sun Apr 08, 2012 12:10 pm
Location: flandria nostra
Super, love it!
Thanks for sharing it.
Always looking for Belgian Congo stuff!
http://virtueel-museum-antwerpen.webnode.be/
" onclick="window.open(this.href);return false;
cheers
|<ris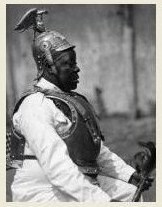 ---
Very nice!

Regards,

Edwin
---
Contributor

Posts: 281
Joined: Tue Jan 27, 2015 5:38 am
I really like these old Tschapka's and yours example is an extremely nice one.
Greetings
Pickelhaube
Collecting militaria isn't a hobby, it's a way of living.
---